Deltana Outfitters offers premier guided Alaska Bear Hunts in the Alaska Peninsula and Western Alaska areas. Learn more about our pristine trophy hunting areas, and give us a call to discuss your next Trophy Bear Hunt!
Western Alaska: Bear Hunts
We hunt bears in unit 17 and 19 from our camp in western Alaska. The bears in this area enjoy an abundance of Salmon. Bears in these areas average around 7.5-8 feet square.
Western Camp Moose and Grizzly Hunt
Moose Hunt: $26,000.00
Grizzly Only Hunt: $17,500.00

Non-Hunter Fee: $8,500.00
Grizzly Trophy Fee (Optional): $8,000.00
Moose Hunt Dates: Sept 5-14 (Unit 17) Sept 10-19 (Unit 19)
Grizzly Only Hunt Dates: Aug 20-29
Arrive Camp: 18-19 Aug



Included:
Charter Fees from Anchorage to camp and return
Food
Lodging in the field
Guide
Trophy/Meat Care in camp
Ground Pad
Transportation in the Field
Shipment of cape/antlers/hides/skulls to D&C in Anchorage


Not Included:
License and Tags: Moose $800.00. Hunting License: $160.00
Sleeping Bag
Hotel/food/lodging before and after hunt
Meat Processing and shipping to your home
Trophy Care/prep at D&C
Packing and shipping from D&C to your Taxidermist
Trophy Fees
Gratuities.
Trip Insurance (Highly Recommended. Ripcord

Itinerary: Lake Clark Air from Anchorage > Port Alsworth > Lake Clark Air from Port Alsworth to Field > Hunt > Field to Port Alsworth then to Anchorage (Lake Clark Air)

Early departure can be arranged if you complete your hunt early.

Hunt Details:
You will arrive spike camp either 3-4 Sept or 8-9 Sept. You will be hunting out of a tent camp. Either 8×8 or 10×10 tents. Cots and sleeping pads will be provided.
This is a spot and stalk hunt, you will be hunting ridge tops glassing and call. The physicality of this hunt on a scale of 1-10 is a 5 until the moose is taken and then it is a 9. Moose can weight between 1000-1200 pounds and all meat has to be salvaged from the field. It is usually 7-9 trips to get the meat cape and antlers back to camp or a landing strip.
If you feel you cannot help with the packing you can hire a packer (we will provide for $300 per day) Please call and we can answer any questions you may have.
Look forward to hunting with you.
The Alaska Department of Fish and Game has designated the Alaska Peninsula as a trophy bear hunting area for game management purposes. The goal is to produce bears of the largest possible size for sportsmen.
Alaska Peninsula: Ugashik Trophy Bear Area
To accomplish this, seasons have been restricted since 1976. Fall hunts take place in October of odd years (i.e. 2011, 2013 etc.) and spring hunts take place in May of even years (i.e.2010, 2012 etc.). The technique has proven to be quite successful.
Before we go any farther, it's important to know that in Alaska you can shoot only one brown bear every four years in most areas here in Alaska. If you have shot a bear recently, contact us to determine your next eligibility.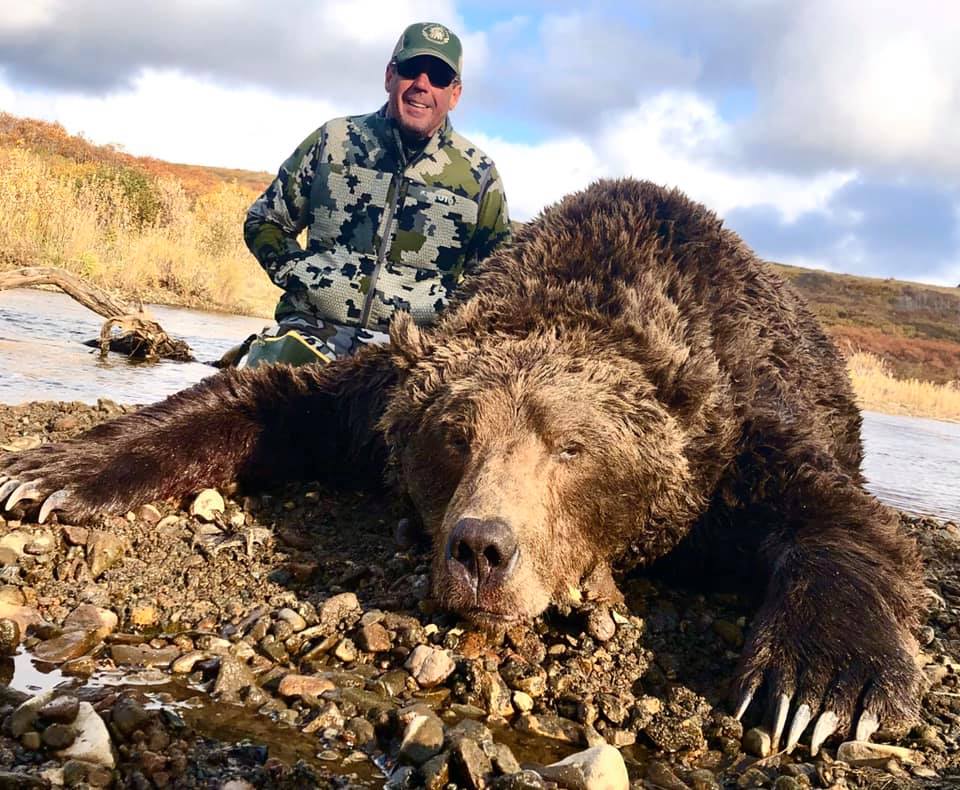 Weather
Weather on the Peninsula is seldom what you could call good, often it's downright horrible. But then big bears live where the weather is the worst so it's something everyone tolerates. The worst weather is generally encountered during October when high winds can be a major factor, however, we tend to see more bears in the fall than in the spring. In the spring the hides may be somewhat thicker and the bears move about during the day. In addition the wind and rain are significantly below fall levels. The liability is that we never know just when the bears may come out of their dens, so patience is a greater factor.
The Alaska Peninsula is wild and remote country with a long history of producing some of the largest bears in the world — and some of the worst weather you have ever hunted in. If you want to hunt the big bears, you just have to hunt them on their turf. Deltana offers extraordinary opportunity to hunt the bear of a lifetime, with experienced, professional guides who have hunted this area for decades with exceptional success.
Ask Us About Additional Hunts Available!