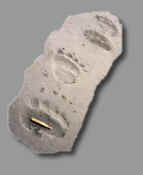 Like all successful bear hunting, the primary activity in fall or spring is glassing. In October, you glass the mountain walls and valley floors for bears feeding on roots, berries, or in the salmon streams. In spring, you hunt by glassing the mountainsides in search of fresh bear tracks or dens appearing on the snow-covered mountains.
As the days become longer the bears break out of their dens and move into the valleys in search of food. Unusual weather can bring the bears out early — or cause them to stay in late — so weather is always a factor. Regardless of which period you choose, bear size will remain about the same. We do not encourage any hunter to shoot the first bear seen. You can shoot only one bear every four years, so it might as well be a big one.
As with all of our hunts, an animal wounded is usually an animal killed. We encourage clients to take only those shots they are very sure of. We respect the game and its precious value. If a client wounds an animal and it escapes, your guide will be required to search for it until found or the hunt is over. As true sportsman, lost wounded game is not an option.