Please note: We are no longer offering drop-offs or outfitted hunts.
Guided Hunts Are What We Do, and All We Do!
Note: All prices subject to change.
Please contact us for current details., including Dates and Locations.
---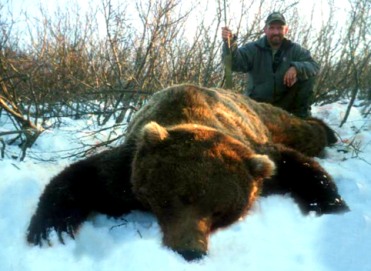 2020
(12 Day) 1×1 Fall Brown Bear Hunt
$28,500
Included in this trip:
Air charter for you & your trophies to and from camp
Lodging & food, guide, and trophy care in camp
Ground Pad.
Shipping of your trophy.
You may take a wolf for only the tag fee.
Not included in hunt:
Sleeping bags are available for purchase
Hotel, food, air travel before or after your arrival and departure from camp.
Cost of your hunting & fishing licenses & tags, which we have in camp.
Non-Hunter accompanying $6,500.00
Trophy shipping, crating, tanning, or insurance from expediter in Anchorage
Any required export permits if applicable.
---
3 (11 Day) Grizzly Hunts
$20,000
One grizzly bear can be taken per year in each of our areas.
May 15 – 25
May 25 – June 4
June 4 – 15
Transportation: Flight to camp is included in the price of the hunt. Boats are often used for May hunts. The terrain is rugged, so hunters should be in good physical condition. Grizzly Bear are hunted in the Koyukuk National Wildlife Refuge (KNWR,) Western Alaska and Unalakleet, Alaska.
Additional Expenses:
When planning a grizzly hunt, the hunters should plan on the following additional expenses:
Hunting license and tags.
Permit drawing fees when applicable.
$150 Alaska Professional Hunters Association, Inc. Alaska Non-Resident Hunting Preservation Fund fee
Roundtrip airfare to Alaska. Flights to camp may be included in the cost of the hunt–contact us for details related to your specific hunt and dates.
Round trip airfare from Anchorage to the 'Bush' is approximately $500. Excess baggage over 50 pounds is approximately 80 cents per pound additional. Hunter is responsible for freight and trophies to Anchorage from 'Bush'.
Possible 2 to 3 days lodging and food in Anchorage, approximately $150/day. In April, lodging is $90/day.
Shipping trophy and meat to home or taxidermist is usually $200 – $1,200.
Non-hunting companions will be charged $3000 for a 10 day hunt and $2000 for a 5 day hunt.
Any gratiuties
Caribou Hunt
$12,500
1 X 1 Hunt
(Draw Only. Contact us for hunt details.)
Dall Sheep Hunt
$21,500
August 10 – 19
August 20 – 29

Hunts are held in the Alaska Range.
Hunters should be in good physical condition and prepared to walk up to 10 miles per day over very rough terrain. Hunter is expected to carry all of their personal gear in his/her backpack.
Moose Hunts – Alaska Range
12 Day Hunt
$18,500 – $19,500
September 1 – 12
September 14 – 25
Includes transportation to and from Anchorage.
Moose Hunts – KNWR
10 Day Hunt
$22,000
September 5 – 15
September 16 – 25
Includes transportation from Huslia.
Contact us for hunt details.
Additional Hunts Available
Contact Us for Details
---