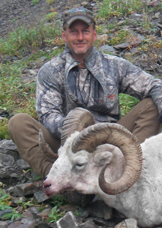 Bob Summers was born and raised in Pennsylvania and started tagging along hunting with his dad and grandfather at the age of 5.  His passion for hunting at the age of 5 is stillpresent to this day and is as strong as ever.  He has lived in Alaska since 1999 and has over 22 years of guiding experience in Alaska and the lower 48.
<< Pictured, Bob with a client's sheep
Bob has guided over 500 hunts in Alaska and the lower 48 over the years.  He holds an OUPV Coast Guard License and previously guided saltwater and freshwater fishing trips in Alaska before coming on full time with Deltana.
Bob has been with Deltana for over 5 years and works in the office year round with the bookings, season preparations, and attending the Safari Club International and Dallas Safari Club Shows.