Welcome to Deltana, Alaska's Premier Hunting Outfitter!
Brooks Range, Alaska - Fall
Grizzly Bear Hunt Information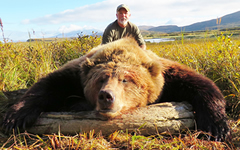 Alaska Peninsula - Spring
Hunt Information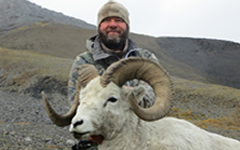 Brooks Range, Alaska - Fall
Dall Sheep Hunt Information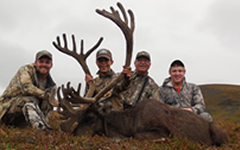 Brooks Range, Alaska - Fall
Caribou Hunt Information
Alaska guided brown bear hunts, grizzly bear hunts, Caribou hunts, and Sheep hunts are a thrilling and memorable experience for any trophy hunter, and Deltana Outfitters, the premier Alaska hunt guide service, does it best!
Alaska Big Game Hunting is what do, and ALL we do!
Trophy Hunting in Alaska is serious fun for serious hunters, When the trophy is your goal, look to Deltana Outfitters for a successful and memorable experience.
Hunt Reports
2016 Alaska Peninsula Spring Bear Hunt
We had a great Spring bear hunt season and we were lucky enough to get some absolute giants. Read More…
Our Alaska Hunting Areas
Our areas, the Brooks Range and Alaska Peninsula, are two of the most beautiful places in Alaska, with abundant bear, Caribou and sheep. But don't let that fool you! Alaska's scenic beauty can also can be harsh and unforgiving . In demanding conditions, the guides, accommodations, equipment make the difference between a tough week in the bush, and an ultimate hunt.
We do everything possible to help you get the most out of your hunt…from pre-hunt consultation and guidance, packing and preparation, to First Class camp accommodations. Our #1 goal is to make sure your experience is an exciting, comfortable and successful once-in-a-lifetime adventure.
We invite you to give us a call to discuss your next game trophy hunt for Alaska Brown Bear, Dall Sheep, and Caribou. Call to Book Now! 907.750.4882 or get in touch to discuss your hunting goals!


Let's Talk Hunting!
Deltana Outfitters will be attending SCI Vegas 2017!
Feb. 1-4 Booth 5830 and 5832

Stop by and say hello!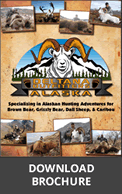 ---
Announcements
Brooks Range Grizzly Bear Hunt Tags – Must Apply before Dec. 15, 2016.

Apply for tag drawings now! Hunts for this popular and highly-successful Deltana hunt will be booked based on tag awards. More Information…
Apply here:  Alaska Fish and Game  . Contact us for additional bear hunt opportunities.
---
Our Promise to You
Testimonials
See What Deltana Hunters Say About Us!

[raw]

---
Meet Our Guides
Equipment for the Hunt
We use and recommend equipment from companies we have tested and trust. When we discuss your Deltana Hunt, we will also provide an equipment information sheet and checklist. We invite you to contact our preferred suppliers when purchasing the items you will need for the most comfortable and successful hunt.
(Click image to view bios)

Take Your Pre-Hunt Training
to the Next Level!