Professional Taxidermy Services
We have made arrangements with one of the best taxidermy firms in the US to handle your trophies.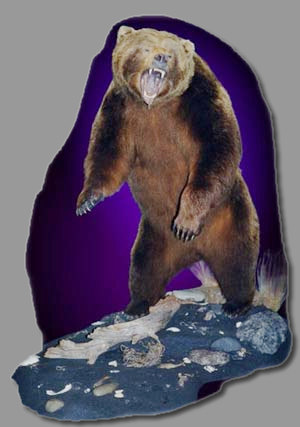 You do not need to use this service if you prefer to use your own taxidermist — but we are set up to take your trophy from the field to your wall or trophy room if you like.
Our taxidermist promises one of the shorter turn-around times in the business.  Having a receiving station in Anchorage helps!
Here's how the process works:
When the taxidermist receives your trophy, they will contact you with an inventory of what they have actually received so there are no surprises months later.
They will then call you to discuss how to best display your animals in order to show off their best features.  Their experts will go over any pictures of your hunt that you provide to make sure that your trophy is reminiscent of your hunting experience.
The next step begins with selecting the best tannery for your project and utilizing the best of old world craftsmanship and state of the art technology. Each skin is individually evaluated and prepared to our specifications.
Every mount is individually sculpted to achieve anatomical accuracy and to reflect unique wildlife behavior. Commercial mannequins are cut and repositioned to create distinctive animal characteristics or custom forms are sculpted in clay using the original skeleton as the foundation.
The prepared skins are fit to the mannequins multiple times during the sculpting process. Each time changes are made to achieve proper size and fit. This assures the recreation of your individual animal rather than a generic mount.
Careful reconstruction of muscle structure, veins, and tendons is a vital stage prior to skin application. These details show through and make the subtle difference.
After final skin application, edges are rejoined using surgical sutures to produce a nearly invisible seam. Upon completion of the sewing process the skin is carefully adjusted so the hair patterns are correctly aligned. The skin is then pinned in place to highlight muscle structure created in the mannequin.
After the mount is thoroughly dry all the pins are removed and the hair is cleaned and groomed. Nostrils, eyelids and other facial features are sculpted with a durable resin and are artistically airbrushed to produce the soft realistic features characteristic of your animal.
The habitat setting is a great priority with our taxidermists, when called for in the mount.  They carefully design terrain indicative of each species adding to the composition and authenticity of the mount. Most bases are on wheels for easy moving. Hardwood pedestals and trim are available as an additional feature.
Whatever your taxidermy needs, we are confident that our partners,
Animal Artistry,can meet it!
We look forward to providing this service if you need it.