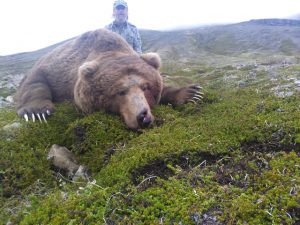 Well we're back from bear camp and all the paperwork is done.  We had a great Spring bear hunt season and we were lucky enough to get some absolute giants.  There are many stories to be told, all unique in their own right.
Most importantly we had a safe season and met many new friends and cannot wait to see where the story ends up.  Many of them are planning on coming back in 4 years and also have scheduled hunts for our bear hunt, caribou hunt and sheep hunt areas on the Brooks Range. One thing that we strive to do is to establish friendships that last a lifetime.  We don't just want to hunt with you once, but we want to hunt with you every time your plan is to hunt bear, sheep or caribou in Alaska.
Overall the weather was pretty good by peninsula standards and everyone had a great time.  Over the next couple months I will be posting the story of each hunt.  Our guides did a fantastic job as always and I couldn't be more proud of the hunters, true grit and perseverance showed through on their hunt and there wasn't anything going to stand in their way of their goal.  Congratulations to everyone and I can't thank you enough for hunting with us and your friendship.
Watch our photo album for 2016 updates. We'll be posting a link on our Facebook page once it's ready for you. While you're there, Like our Page and give us a shout! We'd love to hear from you!
Be sure to sign up for our newsletter too. We won't flood your inbox, but we'd like to say hello and bring you up to date on our news, hunts and events a couple of times a year.